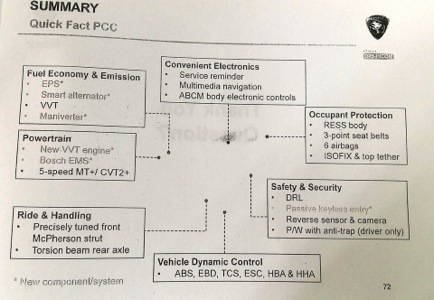 Proton is look to use new engine on its upcoming compact car which will be launched in Q4. Referring to above leaked spec sheets, the new engine will have variable valve timing (VVT) and Bosch engine management system. Although the displacement and type of engine were not mentioned, we can expect its a small displacement type engine with or without turbocharger. We also expect its will employ timing chain technology to match its competitor for low maintenance. It will be combined with 5 speed MT and CVT+2 transmission.
The other specification also will set as new benchmark for Proton in term of comfort, fuel efficiency and safety for A segment. Electronic Power Steering or EPS add driving comfort while contribute to low fuel consumption. Safety will get top notch in this hatchback with Proton very own RESS body, 6 airbags and barrage of dynamic safety features such as ABS, EBD, traction control system (TCS), Electronic Stability Control, Hill Brake Assist (HBA) and Hill Hold Assist (HBA).
The car also will get lot of electronic features such service reminder, which will inform owner for service interval, GPS navigation for easy road finding. Body control module (BCM) unit also will be installed to enable auto wipers, welcome home lights and other human friendly features. Other it will have daytime running light, new safety regulation for european cars, passive keyless entry or intelligent key and anti trap power windows. Last but not least, the chassis is tuned by Lotus to add further dynamic control to the car.
With this list of specification, we wonder how much Proton will set the pricing for the car. New engine till the gadgetry looks promising. This car is worth for waiting before you think to buy an A segment for your family. We hope the quality will be top notch as well as its after sales services.