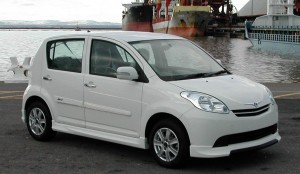 Perodua UK mengumumkan untuk menjual Myvi berpiawaian pelepasan karbon Euro 5 di UK. Ini berikutan peraturan kawalan pelepasan karbon yang ketat di benua Eropah. Untuk perbandingan, piawaian pelepasan karbon di Malaysia adalah pada tahap Euro 2 kerana kualiti bahan bakar yang rendah. Mengikut sumber, jika Malaysia mengenakan tahap Euro 5, harga minyak akan menjadi mahal kerana proses penyulingannya memerlukan kos yang tinggi. Namun bagi saya, penjagaan alam sekitar lebih penting dan perlu mendapat kerjasama dari semua pihak. Ikuti petikan rasmi Perodua UK mengenai Myvi Euro 5 ini.
Press Release dari Perodua UK ;
Perodua are delighted to announce the arrival of two new variants to the Myvi model line up; the Myvi SE and the Myvi Sport. This exciting news also comes with the announcement that the Myvi has recently achieved Euro 5 compliance for both manual and automatic versions.
The introduction of the Myvi SE and the Myvi Sport allows customers to opt for something a little bit different whilst still getting fantastic value for money. These two new variants have the same high specification as the existing Myvi with air conditioning, four electric windows, electric door mirrors, central locking, power steering, an integrated radio/CD player and much more all as standard, but include some exciting new features.
The Myvi Sport boasts a stylish body kit consisting of front, side and rear skirts including imitation quad exhausts. Colour matched side mouldings with chrome 'Myvi' motifs and chrome door handles add classy finishing touches to the vehicle and alloy wheels complete the sporty image. Inside, carbon fibre finishes are fitted to the instrument panel and door panel switch surround continuing the sporty look throughout the car's interior. The Myvi Sport is available for just £7,799* in manual transmission in a choice of either ebony black or ivory white.
The Myvi SE is aimed at the customer looking for a more luxurious interior as this new variant has been fitted with dark grey leather which provides customers with an alternative interior colour option. The seats have been carefully designed with the centre panels made from perforated leather and the door cards have been replaced to match. The Myvi SE also features alloy wheels and is priced from only £8,399**. The SE model is available in either manual or automatic transmission in a choice of ebony black, medallion grey, glittering silver or ivory white.
These two new variants broaden the appeal of the popular Myvi range and will undoubtedly help further improve the successful year Perodua are enjoying. Perodua registrations have increased once again with September sales up by 16.5% compared to the same month last year, which is due to the success of the great value Myvi supermini.
The new Myvi Sport and Myvi SE remain at these unbeatable prices with Perodua's £1,000 swappage allowance offer¹ until 31st October. For details of this offer and other offers currently available from Perodua, customers are advised to visit www.peroduauk.com where they can also locate their nearest dealer and find out more about the new Myvi Sport and Myvi SE.