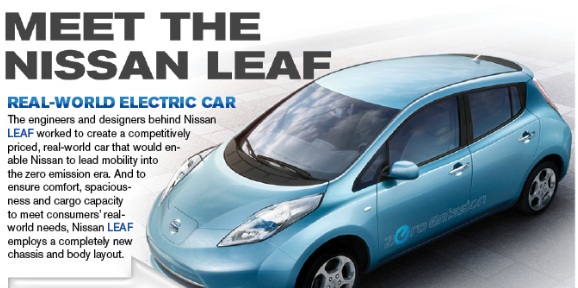 Edaran Tan Chong Motor, Nissan franchise holder, will give Malaysian public a chance to test drive Nissan Leaf next week. The even will be start from 5th May to 6th May at Nissan Showroom Jalan Kemajuan, Petaling Jaya during Journey to Zero event. Nissan Leaf is first mass produced all electric vehicle or EV in the world. During its debut, the backlog order surpassed yearly target and the company is out of supply. With zero CO2 emission to environment, this is the car that saves the world.
Nissan, unlike Toyota and Honda abandoned hybrid project to developed the leaf. It might be too fast for EV as the charging facilities is not well provided even in advance country like Japan or United States. Toyota and Honda which now mass producing hybrid proves successful in marketing strategy with increase in sales of its hybrid.
For those who interested, please visit as per date mentioned above.
More detail log on to Nissan Journey to Zero