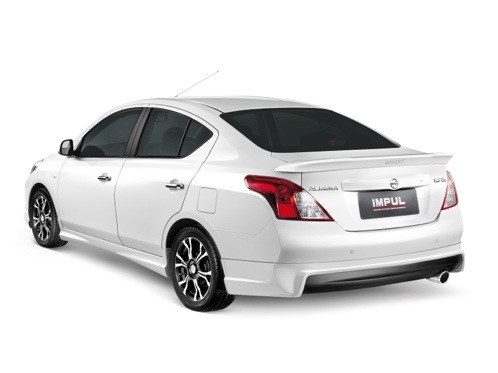 KUALA LUMPUR (15th October 2012) – Edaran Tan Chong Motor (ETCM) is proud to announce that its soon-to-be-launched Nissan ALMERA will be available in a dynamic and significantly more individual mark with IMPUL sports parts. For more personalization, customers can opt for the ALMERA Optional Accessories, also available for both Nissan ALMERA Tuned by IMPUL and the standard Nissan Almera.
Sporty elegance is the hallmark of the Nissan ALMERA Tuned by IMPUL, featuring exclusive components that have been tailored specifically for the tastes of car enthusiasts in Malaysia. Bookings will start from 15th October 2012 onwards.
"The all-new ALMERA is a car that is suited for people from all walks of life. This includes those who may prefer a sportier feel to the cars that they own and drive. We are pleased that we are able to fulfill that choice by offering the Nissan ALMERA Tuned by IMPUL to our local market", said Dato' Dr. Ang Bon Beng, Executive Director of ETCM.
Dato' Dr. Ang went on to say that the IMPUL variants are increasingly popular in the local market, especially among the younger drivers and that IMPUL is known for the exclusive refinement of Nissan automobiles.
NISSAN ALMERA TUNED BY IMPUL
IMPUL Blast 2 Exhaust Muffler – The earthy and impressive sound stems from the IMPUL sports exhaust muffler. The stainless steel rear muffler with its distinct IMPUL logo perfectly integrates into the rear section.
IMPUL HS-06 Alloy Wheel (16") – The latest addition in silver and black with matte finish. These 16" alloy wheels add a dynamic emphasis to the car. The alloy materials and Super Cast process used by IMPUL decrease the weight of the wheels by 20% – 30%, improving driving performance without compromising quality and safety.
Consumers can also choose to upgrade to a 17" IMPUL Aura SX-10 alloy wheel for a fee.
IMPUL Super Shock Suspension System – The system consists of shock absorbers and coil springs, which have been specially tuned by IMPUL engineers for driving enjoyment. The ride height is lowered by 30mm with increased lateral force support for more agile handling and distinct road contact.
IMPUL Aerokit – The stylishly front bumper spoiler and the new radiator grille form the front of the Nissan Almera Tuned By IMPUL into a dynamic center of attention. The dynamic appearance is perfected by the side skirts, rear bumper spoiler and rear boot spoiler.
OPTIONAL ACCESSORIES
LED Wing Mirror Signal Lights – A genuine Nissan accessory, the LED Wing Mirror Signal Lights are for drivers who want to add class to their car while making themselves more visible to other cars when changing lanes.
LED Stainless Steel Kicking Plant – Add a subtle touch of luxury to your car with this neat piece of kit. The stainless steel kicking plate protects the car's interior and is lit by LEDs .
Door Visor – Don't like the sun in your eyes? Choose to install door visors to give you some protection from the sunlight.
Trunk Tray – Keep your trunk organized and clean with the original Nissan trunk tray.
Sport Pedal (A/T variants only) – Giving the car a sporty feel, this accessory is a must-have to complete the sporty looks of the car.
Multimedia Navigation – This onboard multimedia navigation console comes complete with a rear view camera, a DVD player, iPod connectivity, USB and Bluetooth capabilities.
Combination Leather Seat and Door Panel – Take luxury to another level by clothing the interior of the car in leather.
15" 7-spoke Alloy Wheels – Finished in polished steel, this alloy wheels option adds a touch of class to the car while being affordable at the same time.
Tinting – Stay cool while driving with 3 choices of tinting package from reputable brands; V-Kool Elite, Solar Gard Armorcoat and Solar Gard.
For more information about the Nissan ALMERA Tuned by IMPUL, please logon to www.impul.com.my or www.facebook.com/NissanMalaysia.